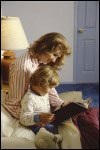 Use Stories to Pass on the Faith
How can we use stories to convey meaning, inspire action, and pass on the faith?
Single Session Bible Study
Overview
"Stories are a powerful way to connect with kids," says William Bennett in his article for CHRISTIAN PARENTING TODAY. `God reveals himself through the eternal stories of the Bible. He uses story as a powerful tool to demonstrate difficult concepts, chisel our character, influence our thought formation, and inspire us to action.
How can we use dramatic reading and creative storytelling to make the Bible come alive? In what ways does imagination influence thought and action? How can we use stories to strengthen belief and reveal God's trustworthy character? How did Jesus use stories to clarify difficult concepts and demonstrate the actions he desires us to take? How can we use stories as a means to remember God's faithfulness to previous generations and to us? This study will examine the power of story as a tool to pass on our faith.
Table of Contents
SCRIPTURE: Deuteronomy 7:17–21; 8; 2 Kings 5:l–16; Matthew 7
LEADER'S GUIDE
• Identify the Current Issue
• Discover the Eternal Principles
–Teaching point one:Stories of faith that are passed down through the generations strengthen belief, reveal God's faithful character, and allow us to remember all that God has done.
–Teaching point two: Jesus used word pictures, metaphors, analogies, stories, and parables to clarify his message.
–Teaching point three: Use stories to increase the faith of children.
–Teaching point four: Make God's Word come alive through dramatic reading and storytelling methods.
• Apply Your Findings
• Additional Resources
ARTICLE FROM CHRISTIAN PARENTING TODAY
• Tell Me a Story, an interview with William Bennett by Lisa Jackson (Jan. /Feb. 2001, 4 printed pages)
Total number of pages – 12
Use Stories to Pass on the Faith