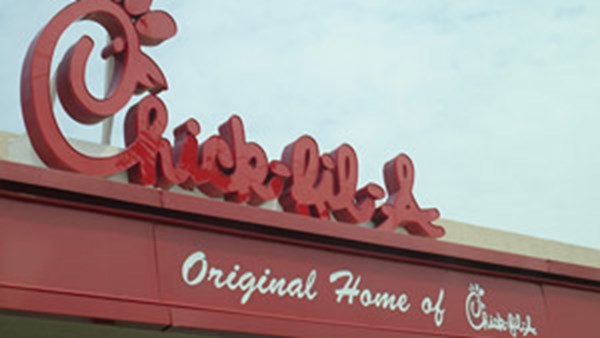 Another Kind of Christian Witness at Chick-fil-A
Franchise owner Erik Devriendt doesn't have much to say about the recent imbroglio over Dan Cathy's comments. He just wants to help local refugees.
8.1.12
As the Chick-fil-A at a shopping center in west Richmond prepares for Chick-fil-A Appreciation Day—the newest salvo in a culture-war feud over gay marriage and free speech—some employees, like Jirom, have other reasons to appreciate their fast-food employer.
A native of Eritrea, Jirom fled to the United States in 2008 to avoid being conscripted to military service for a government that opposed his Christian faith, and to be with his fiancée, Tirhas, whom he had met at an Ethiopian refugee camp. Like most of the 60,000 refugees who arrived in the U.S. that year, he had little money and few relationships to land on his feet. But a Christian couple, inspired by their church's sponsorship of a large Burmese family, decided to open their doors. They gave Jirom a room and one of their cars, helped him and his fiancée navigate marriage paperwork, and enrolled him in a local GED program. And then they employed him: Jirom now works full-time at the Westchester Commons Chick-fil-A, where Spanish, Nepali, Burmese, Tigrinya, and Amharic are spoken to a suburban clientele ordering fried chicken nuggets and waffle fries.
The fast food restaurant of a thousand lands is the work of Erik DeVriendt, the owner/operator of this Chick-fil-A since June 2011. Since moving to Richmond in 2006, DeVriendt has wielded his vocational skills to address the needs of Richmond's refugee population: namely, steady and life-giving employment. Including Jirom, DeVriendt has employed some 13 refugees for his 67-employee team, often receiving referrals from Commonwealth Catholic Charities, the local resettlement agency. The agency helps with paperwork and training, but DeVriendt is not incented financially for hiring refugees. He simply wanted to "help them in the most tangible way possible, so we stepped up to the plate and took a swing."
DeVriendt first learned about the plight of refugees through the Richmond Christian Leadership Institute, a year-long leadership program that trains Christians to understand the history and cultural dynamics of their city. "I remember [hearing from] a pastor whose congregation was made almost entirely of refugees from various African nations," says DeVriendt, who was part of RCLI's 2007–2008 inaugural class. "I was humbled that the stranger and alien talked about in Deuteronomy were literally in my neighborhood and I didn't know." His first team included seven men and women from Bhutan, including a man with a graduate degree in library science—a rare feat in a country where the average citizen earns $1,300 a year.
"Many of these men and women are highly educated and have positions of power in the communities they come from," notes DeVriendt. "But it seldom translates into similar employment in the U.S." As refugees move to Richmond for its moderate living costs, large size, and vast parachurch ministry network, he hires them in part to help them learn English and accustom them to American culture while they get settled. And while he's careful not to give the refugees preferential treatment, DeVriendt supports them beyond a weekly paycheck: coordinating rides for the Bhutanese, helping the Burmese with their finances (DeVriendt was a director at Capital One before opening the restaurant), and connecting them to local ESL programs. He also does the taxes of Jirom and his wife, who now attend DeVriendt's church, Northside Church of Richmond.
All of these efforts flow out of DeVriendt's Christian commitments, ones deeply embedded in Chick-fil-A culture. Founded in 1946 by Southern Baptist businessman S. Truett Cathy, the Atlanta-based franchise's stated goal is "to glorify God by being a faithful steward of all that is entrusted to us." Hospitality, customer service, and a 6-day workweek reflect Cathy's desire to incorporate biblical values into the workplace. So does president Dan Cathy's recent comment about the traditional family, which has drawn ire from Chicago politicians and support from Billy Graham and Mike Huckabee. The latter's Chick-fil-A Appreciation Day is expected to draw over 500,000 extra customers today to the company's 1,600 restaurants. But DeVriendt says the recent imbroglio hasn't changed his goals. "We appreciate all of our customers and are delighted to serve them at any time," he says.
He's more excited about a friendship budding between Jirom, a Christian, and a Bhutanese employee, a Hindu. "They work shoulder to shoulder four days a week, and I've overheard them lately discussing matters of faith," says DeVriendt. "While evangelism isn't a stated goal of ours, it has been neat to see the way God weaves himself into our business to enable conversations about faith."
"When Erik first opened the Chick-fil-A, people told him that his idealistic plan to employ refugees would never work," says Erik Bonkovsky, lead pastor at City Church of Richmond. "But months later, he's proving skeptics wrong. Erik has been a committed and steadfast advocate for refugee employment in Richmond. For every refugee he employs, an at-risk family is stabilized."
DeVriendt says he's getting more than he's giving. "We've been blown away by how [hiring refugees] has challenged our team and ultimately blessed our business," he says. "I think that's the only way we can make this city flourish—by actively loving rather than just agreeing that it would be a good thing if someone else did something."
Katelyn Beaty is editorial director of This Is Our City.
MORE FROM CHRISTIANITY TODAY