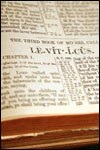 A Whole-Bible Gospel
The Scripture of Jesus is our Scripture, too.
Single Session Bible Study
Overview
What is one quick and seemingly painless way we often reduce the size of our gospel? We reduce what we study in the Old Testament portion of the Bible - approximately three fourths of the entire book. We sometimes believe it does not have direct relevance to us today as we live out the gospel.
To live out the gospel in a large way, we need to increase the intensity of how we read and live the Old Testament. This study will help you be more attentive to the value of the Old Testament as a launching pad to the gospel of Christ. In this study, the author of "The 30-Day Leviticus Challenge" helps us understand the vocabulary and messages of the Old Testament.
Table of Contents
SCRIPTURE: Leviticus 16:20-31; 19:18; 26:11-13; Mark 12:28-31; John 17:15-19; Titus 2:11-14
LEADER'S GUIDE
• Identify the Current Issue
• Discover the Eternal Principles
-Teaching point one: We need to take Leviticus (and the Old Testament) as seriously as we take the rest of the Bible.
-Teaching point two: The Old Testament, like the gospel of Christ, is a powerful testimony of grace.
-Teaching point three: Leviticus, like the gospel, shows us the power of obedient living.
-Teaching point four: Leviticus helps us enlarge the gospel by living it in community.
• Apply Your Findings
• Recommended Resources
ARTICLE FROM CHRISTIANITY TODAY
• "The 30-Day Leviticus Challenge" by Daniel Harrell
You may also purchase this study as a part of our six-session course Is Our Gospel Too Small?.
Total number of pages - 11
A Whole-Bible Gospel