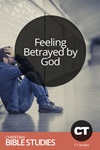 Feeling Betrayed by God
Learning to trust God when he allows suffering.
Single Session Bible Study
Overview
It's easy to trust God when things are going smoothly. It's not so easy when life throws us a curve ball. As much as we hate to admit it, we often believe that good things happen to good people and bad things happen to bad people. We feel as long as we're serving God, nothing bad should happen to us.
Is God not holding up his end of the deal when he allows us to suffer? Or might God have a deeper blessing in mind?
Table of Contents
SCRIPTURE: Isaiah 43:1–4; Psalm 22–23; John 9; Romans 8:18–28; 2 Corinthians 4:16–18; 1 Peter 4:12–19
LEADER'S GUIDE
• Identify the Current Issue
• Discover the Eternal Principles
—Teaching point one: We aren't promised a pain-free life.
—Teaching point two: God promises not to leave us alone in suffering.
—Teaching point three: God turns suffering into glory.
• Apply Your Findings
• Additional Resources
ARTICLE FROM CHRISTIANITY TODAY
• "Blindsided by God," by Peter Chin, July/August 2013
Feeling Betrayed by God