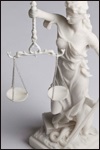 Justice:Restoration or Retribution
What biblical principles can guide us in dealing with those who break the law?
Single Session Bible Study
Overview
Why do we send criminals to jail? Is it simply to punish them? Should there be a higher goal for our criminal justice system? In the Christianity Today article included with this study, theologian and ethicist Lewis Smedes attempts to answer that question. And we take a closer look at Scripture for guidance.
Table of Contents
LEADER'S GUIDE
• Identify the Current Issue
• Discover the Eternal Principles
—Teaching point one: We need a biblical basis for justice.
—Teaching point two: Ideally, the aim of justice should be reformation of the person.
• Apply Your Findings
HANDOUT FOR FURTHER STUDY
ARTICLE FROM CHRISTIANITY TODAY
• Good Question: How to Deal with Criminals, by Lewis Smedes (July 8, 2002)
Total number of pages—
Justice:Restoration or Retribution
SmallGroups.com offers a diverse set of adaptable training tools for small group models that can be customized to a church's unique needs.
14-Day Free Trial
Get complete access free for 14 days.
Featured Training Tools:

Connect People into Small Groups
A la carte price:
Theological Discussions for Everyone
A la carte price: