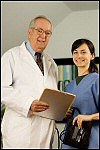 Servant Professionals
How should Christian professionals decide on fees?
Single Session Bible Study
Overview
Many lower-income people are turned away by both Christian and secular lawyers, physicians, counselors, and other professionals because they are unable to afford their services. Are Christian professionals, as well as secular ones, guilty of greed? Should Christian professionals be more accommodating to the poor?
Table of Contents
LEADER'S GUIDE
• The Issue: Discussion Starters
—In what ways might the church become involved in providing professional services to the poor?

• The Scriptures: Sample Questions
—Read Matthew 25:14–30 and 1 Timothy 6:17–19. What should be the Christian professional's attitude toward financial gain? Are Jesus and Paul condemning financial gain in these verses? Why or why not?

• The Application: Call to Action
—If you are a Christian professional in a service occupation, in what specific ways can you demonstrate Christ's servanthood?
• Apply Your Findings
HANDOUT FOR FURTHER STUDY
ARTICLE FROM CHRISTIANITY TODAY
• Professionals Must Adjust Their Fees, by James Hilt (CHRISTIANITY TODAY)
Total number of pages—
Servant Professionals